Damaged Turbine Impellers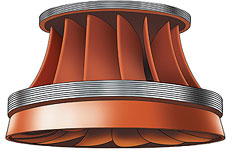 Some of the impellers of the hydro turbines were damaged by debris sucked into the hoses that were torn during the storm.
Protoceratops
Heinrich shot a small dinosaur  which he said looked a bit like a protoceratops while out hunting with his bow.
Barret M82 Snipers Rifle
They decided to use Roger's anti-material sniper's rifle when they set out to hunt a large therapod.